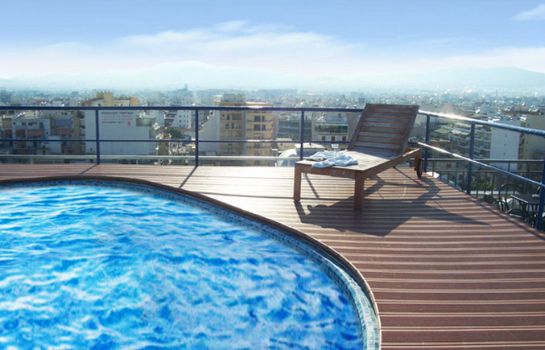 Candia Hotels, Athens
40, Th Diligianni Str. - 10438 Athens
(
Show map
)
142 rooms
Ø 6.3
Welcome to the Best Western Candia Hotel, your friendly hotel in the city of Athens, which promises you a very pleasant & comfortable stay.
The Candia Hotel is an example of those simple European properties that provide comfort & 1st class services at very reasonable prices. All rooms in the hotel are air-conditioned & have private amenities.
The hotel gloats over a bar & a roof garden with a pool where you can relax & enjoy a magnificent view of the city & the Acropolis. The roof garden & swimming pool are open from May to the end of September.
The most notable features of the Best Western Candia Hotel are the excellent Greek restaurant, the airy public lounges & those of the bedroom balconies looking out on Acropolis. In addition a small bar is a welcome heaven after the sight-seeing.
Best Western Candia Hotel offers the guests a restaurant and a bar, cafeteria, breakfast hall and a meeting room. Free wireless internet access in the entire building is offered
All our guests can enjoy the wonderful roof garden, the swimming pool and the cocktail bar along with a spectacular view to the Acropolis and Lycabettus, in a relaxing and entertaining environment. The roof garden is open from May to the end of September.
A Superior Tourist Class Hotel which is within walking distance from Omonia Square, the commercial district of Athens and also close to the famous National Museum. It is ideally situated being just 30km from the International Airport, opposite the Larissis railway station and near the Metaxourgio underground station. Nearby Candia Hotel there is a 24hour Parking Station.
BEST WESTERN Candia Hotel offer its guests a restaurant and bar, cafeteria.Roof garden, seasonal swimming pool and cocktail bar offer a spectacular view to the Acropolis and Lycabettus. Within walking distance from the center and commercial district of Athens close to National Archaelogical Museum.40km from the International Airport and between 2 metro stops (red line)and sentral Railway station.
Reception hours:
Every day: from 12:00 AM to 12:00 AM
General

Car rental - Concierge - Front desk 24 hours - Lift - Outside pool - Safe front desk - Washing service